Corporate governance is the system of rules, practices, and processes by which a firm is directed and controlled. Good corporate governance helps companies to build trust with investors and the communities they serve. The result is the promotion of financial viability and the creation of long-term investment opportunities for market participants. 
Our GIA Methodology is developed to accommodate for corporate local laws and regulations as well as international regulatory trends. The objective of this work is to identify gaps and put forward a plan for actions to improve a corporation's governance structure and program. The GIA Methodology is the ultimate tool to guide corporations to go beyond the law and become ethically responsible for a robust and impactful business.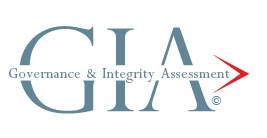 Proprietary of Capital Concept, Governance and Integrity Assessment (GIA) is developed to help companies identify areas of improvement and the development of their corporate governance program. Through GIA, the team assesses the current standards, structures and procedures in place with regard to the control environment of the company. The assessment also includes a detailed report with clear recommendations and a plan of actions on how to further improve the corporate governance program.
The GIA methodology is fully aligned with IFC, OECD, UN and the Equator guidelines and principles, and allows the Capital Concept team to conduct in-depth research and extensive interviews with board members, senior management, audit committee and several other stakeholders to provide companies with essential recommendations for improving their governance procedures in the following areas:
Strategy Formulation
Culture of and general commitment to corporate governance
The role and functions of the board of directors
The internal control mechanisms and risk management
Transparency and disclosure
Treatment of shareholders
Investor perceptions
It is the ultimate tool for institutional investors who wish to integrate corporate governance in their enhanced due diligence.
Capital Concept's peer review & self-assessment is a reference tool for companies to measure their governance progress by undertaking the GIA methodology and undergo self-assessment, hence embarking to the governance journey and pursue their interest towards their investors and stakeholders. After a client completed it's self-assessment using one of our 72 proprietary methodologies, Capital Concept team undertakes a peer review to assess the current standards, structures and procedures and provides a detailed report with clear recommendations on how to further improve the CG functions.
Through Capital Concept's due diligence services, we investigate corporate practices and identify potential risks such as reputation, financial, compliance, fraud, operational, and other risks. We go beyond local laws and best practices. We help companies & institutional investors identify risks pre-investing during relationships & incase of litigations. Our process includes the following:
Research and collection of ownership data
Identifying all types of risks
Analysis of share ownership, cross-shareholdings, vulnerability, and market activity and vote projection
Review and assessment of corporate governance
Communication and transaction execution
Update of shareholder base Coordination with investor relations
Post-meeting review and recommendations